Book of Condolence for Obbo Demissie Kebede Sarda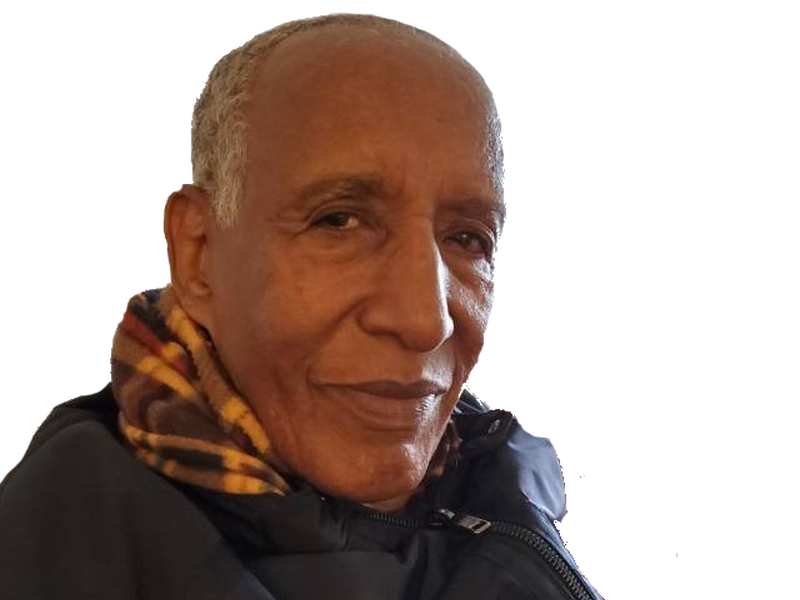 Read tributes paid to Obbo Demessie Kebede Sarda by comrades and friends here.
47 entries.
You were a good man who brightened my father's days. I have known you since I can remember and have always considered you as an uncle. You are a kind, good and caring man. My dad was always happy after talking to you and I thank you for that. You left us too soon, miss you. Hope your dream of a free Oromia comes true.

I miss you, Meti Gemeda
Amanamummaa fi jabina imaammata falammii haqaaf qabduun siyaadanna. Sossobbiin isa tufte akka gaabbitu si hingoone. Adeemsi kee mataan isaa manabarumsaati.

Jaallankeef, firoottanii fi hawaasa guyyaa rakkoo si cinaa dhaabateef jabinan hawwa.

Waaqni lubbuu kee nuuf haa qananiisisu.
Boqachuun Qabsaawaa oromoo gameesa mirga saba isaa kabachisuf waa hunda isaa dabarsee oromoof keenne Obbo Damisee K Sardaa duba akka Oromootti waa heedutu namatti dhagahama haa ta'utti akka cabanitti okolu otuu haga isaan oromoo Oromiyaaf olan ta'unifin dandahamee Biyyaa Abbaa isaanni irratti haga gootummaa isaani ittin dhadatani ittin gerarrani gaggefatan ture.

Carraa Oromoo ta'ee bakka itti cabnee isaanilee wareegamaa itti kaffalaa uummurii isaani dabarsan irra waan hin furamneef akka kana taanne.
Haatu garuu, qabsoon isaan raasanii dhinbibaan kayyoo xalilaa lafa kiyyaan sun har'a dhaloon dhalee sadarkaa dubbatti hin debbinee irran gahamee jira.

Bilisummaa Oromoo isaan hawaan sana argu baatanilee akka fixxa baatu abdachaa adunyaa kanarraa goddaanani.

Eekeraan isaanni iddoo qabanaa haaqubatu. Nus warra kayyoo isaani fixaan baasse galma geesu argu nu haatasisu.😭

Nagaan boqadhaa.
Sardaa, nutti jarjartee nutt waan jennu nu dhabsiiste.

Kakaa keenya akka eegnu siif samaannaa!
Obbo Demissie was a man of great determination who dedicated his entire life to Oromo cause. He was compassionate and caring, faithfully served his people and community until the last day of his life. He was much concerned about the well-being of others and the status of Oromo struggle while his own health was failing every single passing day.

His departure left a huge hole in Oromo community of greater Toronto area and beyond. He will be missed by family, friends, and the whole nation. His memory and legacy lives on for years to come.

Rest in perfect peace.
Duuti waan hin oolle hundi keenya karaan kanuma, firaa fii jaallewwan saa hundaaf Waaqni sabrii isinii haa kannu.

Obboo Damissee'n hujii ulfinni sii madaalamu hindadeenye ummata keenyaaf hojjataniif Waaqni galata haa kafaluuf.

Maqaan saa seenaa sabaa keesatti barreefame isa jiraachise
nuufiis obsaa, dandeetii fii murannoo akkasaa hawwina.

Nagaan boqqadhu.
Obbo Demisse! Guddaa nama gaarummaa fi garraamummaan keessan dhaloota gidduutti yaadatamaa hafa.

Because of you, Canada became home for so many Oromos and other nationalities. Life worth living you have lived. Thank you so much.
Rest In Peace.
Obbo Damissee was the most amazing calm person who treated people equally. The humbleness of Obbo Demise was beyond one can imagine.

Obbo Damissee, fira nama hundumaa, abbaa ijoolee Oromo horate, nagaan nuuf boqoodhu.
Oromoo fi Oromiyaan ilma ishi isaa dhugaa dhabuun guyyaa ummatan Oromoo obboleesa isaa itti dhabe kana bakka jiru hunda walifi labsaa jiruu dha.

Obbo Damisseen obboleesa guyyaa xiiqii hiiriiyya dhugaa koode, WAAQAYOO jeenata kee bookaan haqanisu. Ummata Oromoo fi maatii kee hunda fi jajjabina hakenuuf.

Nagaan yaa Jaala kiyya, yeroo boqoonaa gaarii sifi hata'u.

Naagati Dammuu koo.
Qabsaa'aan ni du'a
Qabsoon itti fufa.

Qabsaa'ota hangafaa qabsoo ummata Oromoo eegalan keessaa tokko kan ta'e Obboo Damissee Kabbadaa Sardaa, kan umurii kee guutuu qabsoo ummata Oromoof of kennu keetiif galata guddaa qabda.

Seenaan bara baraan si yaadata.
Nagaa boqodhu😭😭
Obbo Demissie, was our hero. Heroes do not die !!

Your dedication to Oromo struggle for justice, and independence hopefully will continue until Oromia is free.

The seeds you have planted in the heart of Oromo will not die!!

Rest In Peace Our Hero.
I knew J. Demessie Kebede Sarda from the early 1980s, the time most members of OLF leadership and activists were mass arrested by the military government. He was one of the personalities Amnesty International actively campaigned for their freedom.

I met him in person when he came to London for a two-week visit, when he met Amnesty International officials who campaigned for his freedom for over 10 years. Since that time we have remained close friends.

J. Demessie had a huge struggle with objective of FREE OROMIA. To achieve that, he paid all necessary sacrifices required except his life; over 10 years of imprisonment, and torture by the military regime. However, with regime change, he was freed from prison in the early 1990s. Soon he resumed his campaign as a member of OLF. His dream had been always a FREE OROMIA. To my understanding, he achieved Oromia's realization with a lion's share of his contribution. Now his struggle would be to transform that into safe hands for the YOUNG UPCOMING Oromo generation.

I feel deep sorrow about the passing away of J. Demissie Kebede Sarda. REST IN PEACE.

J. Demessie'n qooda qabsoo isa irraa eegamu caalaatti gumeessee jira. Waan tokko natti hafe jedhu hinjiru. Karaa dheeraa tarkaanfatee baallii qabsoo dhalataa haaraaf (new generation) dabarsee jira.

Harrha, lubbuun isaa harkka Waaqayyoo jirtti. Boqonnaa nagayaa kan barabaraan hawwaaf. Yaadannoon kee barabaraan nawqaliin jiraata.

Demissie Tullu
#Obbo_Damisee_Kabbadaa_Sardaa
#A_Big_Loss_to_a_Nation
One of the reason why my sadness goes high whenever we lose iconic freedom fighters like Obbo Damisee Kabbadaa Sardaa is that they go before witnessing and tasting the fruits of their sacrifices.

To my knowledge, Obbo Damissee is one of the Oromo freedom fighters who gave up everything about themselves for the sake of the independence of their people and nation. I consider myself as one of the very lucky Oromos who had a close acquaintance with Obbo Damissee. And, that was in relation to what he described, in an interview he gave to a medium while he was around, as an inheritance that he got from his uncle Obbo Ejjataa Fayisaa - helping refugees resettle. Obbo Damisee was referring most of the newly arriving refugees to me; and asking me to help him with preparing with what is known as narrative, a starting point for a refugee to present their case to court via a lawyers to obtain a PR status.

In this world where some individuals charge their fellow immigrants in thousands, those services were free; and the successes in courts were 100%. I don't remember a single case of rejection of refugee claims that went to court with a touch of Obbo Damissee's hands on it. Here was one of where I witnessed Obbo Damissee's utomost intelligence. I have noticed, from our interaction, that he was a person who learnt from all the ups and downs that he went through; and used all those knowledge and wisdom to serve his people for as long as he was active. Thanks to the likes of Obbo Damissee Kabbadaa Sardaa, the struggle for the independence of Oromia has reached a POINT-OF-NO-RETURN, where it is standing today.

They paved the way for it; they ignited its torch.

Note: Inappropriate text has been redacted.
Waaqni lubbuu kee haqqaaneessu. Waan dandeessuu cufaa mirga uummaateef kabachiisuuf gummaacha olanaa kaffalteeta.

Bara 32 duraa si argulee hanga harati dhabanii kee fi dheerrensi kee ija koo dura jira. Nama akka kee kana dhabuun bayyee nama gubaa. Jallaan qabsoo kee warreegaman waliin nagaan boqqaadha.

Realy the oromo nation miss you. RIP, the true freedom fighter.
While death is inevitable, I am saddened at hearing the passing of this noble man and a life time fighter for the freedom of the Oromo. His immense contributions to the Oromo politics, consistence, humbleness, and love for his people will always be remembered.

Obbo Damissee, you are a big loss to all our people. Although, you are gone before seeing the fruits of your struggle, you have set the struggle in a continuous motion and soon to be implemented.

Love you for ever.

Rest in Peace my dear!.

I pray for strength to the family and the Oromo people at this difficult time of loss.
You completed a hero's journey!

RIP, Obbo Damissee.
Obbo Demisse, I remember you as the most selfless, kind and humble person I ever met in my life. You were so dedicated to the Oromo struggle, significantly impacted many lives including myself. RIP.
Jaal Demissie Sarda, managed to know you very late. You told me a lot about my Dad. Because you were one of the few heroes who really wanted to uplift the nation in need and you lived down to earth.

With that very short time I was honored to meet you gave me strength and advised me to be firm just like my Dad. I promise to hold the name you gave me soon on my passport.

Abbaa Let Your Soul Rest in Eternal Peace!💔💔😭
Jaal Demissie K. Sarda was a well known and dedicated human rights activist all his life. My family and I were very close to him, as he has been a kind and loving person to all human beings. J. Demissie was a humble, shy, loyal, kind, dissent, ans a man of integrity in the faces of all individuals who have known him.

I had met him here in Toronto in September of 2003, as one of my relatives introduced him to me while I was moving from Quebec City to Toronto. He had welcomed my friend and I to his home. And we both stayed a week or more with him, until we got apartments to rent.

After he told me about his relatives, I noticed that two of my Haramaya University friends were his nephews. The nephews were 3rd and 2nd years students, in the year I was enrolled at the University. These all stories paved the ways to be a closer family until the unfortunate day of his separation from those who lived with him and loved him as big brother and father of the Oromo people.

Jaal Demissie we're going to miss you, but you're always in our hearts; your legacy, Oromummaa, Sabboonummaa, all Oromoo culture and traditions will remain with us and the generations to come. May Waqaayyo keep you comfort and your soul in peace!

Dereje Goro and Family🙏🏾🙏🏾
Obbo Damissee Kabbadaa Sardaa namoota jajjaboo bara dukkanaa keessa roorroo saba isaaniif abokaatoo ta'uun mirga ummata cunqurfamaa cufaaf umrii isaanii guutuu woldhaanssoo godhankeessa worra tarree tokkofaa irra ture!

Bara 1992 miseensa paarlamaa mootummaa cee'umsa Itoophiyaa woyta turanitti Finfinnee fi naannawa isaatti bobba'uun ummata Oromoo barsiisaa hennaa turan hiree qaamaan isaan arguu argadhe!

Nama jabaa, mishaa mirga ummata isaatiif falma'aa jiraatte!

Uumaan isaaf haa araaramu, ekeraan isaa qabbanaan boqatee daadhiin jala haa yaatu🥰