Book of Condolence for Obbo Demissie Kebede Sarda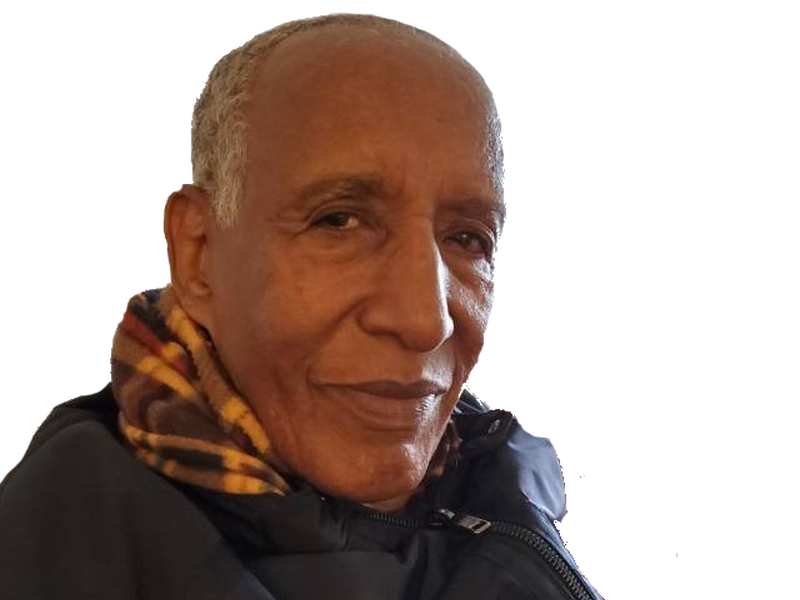 Read tributes paid to Obbo Demessie Kebede Sarda by comrades and friends here.
47 entries.
You were a good man who brightened my father's days. I have known you since I can remember and have always considered you as an uncle. You are a kind, good and caring man. My dad was always happy after talking to you and I thank you for that. You left us too soon, miss you. Hope your dream of a free Oromia comes true.

I miss you, Meti Gemeda
Amanamummaa fi jabina imaammata falammii haqaaf qabduun siyaadanna. Sossobbiin isa tufte akka gaabbitu si hingoone. Adeemsi kee mataan isaa manabarumsaati.

Jaallankeef, firoottanii fi hawaasa guyyaa rakkoo si cinaa dhaabateef jabinan hawwa.

Waaqni lubbuu kee nuuf haa qananiisisu.
Boqachuun Qabsaawaa oromoo gameesa mirga saba isaa kabachisuf waa hunda isaa dabarsee oromoof keenne Obbo Damisee K Sardaa duba akka Oromootti waa heedutu namatti dhagahama haa ta'utti akka cabanitti okolu otuu haga isaan oromoo Oromiyaaf olan ta'unifin dandahamee Biyyaa Abbaa isaanni irratti haga gootummaa isaani ittin dhadatani ittin gerarrani gaggefatan ture.

Carraa Oromoo ta'ee bakka itti cabnee isaanilee wareegamaa itti kaffalaa uummurii isaani dabarsan irra waan hin furamneef akka kana taanne.
Haatu garuu, qabsoon isaan raasanii dhinbibaan kayyoo xalilaa lafa kiyyaan sun har'a dhaloon dhalee sadarkaa dubbatti hin debbinee irran gahamee jira.

Bilisummaa Oromoo isaan hawaan sana argu baatanilee akka fixxa baatu abdachaa adunyaa kanarraa goddaanani.

Eekeraan isaanni iddoo qabanaa haaqubatu. Nus warra kayyoo isaani fixaan baasse galma geesu argu nu haatasisu.😭

Nagaan boqadhaa.
Sardaa, nutti jarjartee nutt waan jennu nu dhabsiiste.

Kakaa keenya akka eegnu siif samaannaa!
Obbo Demissie was a man of great determination who dedicated his entire life to Oromo cause. He was compassionate and caring, faithfully served his people and community until the last day of his life. He was much concerned about the well-being of others and the status of Oromo struggle while his own health was failing every single passing day.

His departure left a huge hole in Oromo community of greater Toronto area and beyond. He will be missed by family, friends, and the whole nation. His memory and legacy lives on for years to come.

Rest in perfect peace.
Duuti waan hin oolle hundi keenya karaan kanuma, firaa fii jaallewwan saa hundaaf Waaqni sabrii isinii haa kannu.

Obboo Damissee'n hujii ulfinni sii madaalamu hindadeenye ummata keenyaaf hojjataniif Waaqni galata haa kafaluuf.

Maqaan saa seenaa sabaa keesatti barreefame isa jiraachise
nuufiis obsaa, dandeetii fii murannoo akkasaa hawwina.

Nagaan boqqadhu.
Obbo Demisse! Guddaa nama gaarummaa fi garraamummaan keessan dhaloota gidduutti yaadatamaa hafa.

Because of you, Canada became home for so many Oromos and other nationalities. Life worth living you have lived. Thank you so much.
Rest In Peace.
Obbo Damissee was the most amazing calm person who treated people equally. The humbleness of Obbo Demise was beyond one can imagine.

Obbo Damissee, fira nama hundumaa, abbaa ijoolee Oromo horate, nagaan nuuf boqoodhu.
Oromoo fi Oromiyaan ilma ishi isaa dhugaa dhabuun guyyaa ummatan Oromoo obboleesa isaa itti dhabe kana bakka jiru hunda walifi labsaa jiruu dha.

Obbo Damisseen obboleesa guyyaa xiiqii hiiriiyya dhugaa koode, WAAQAYOO jeenata kee bookaan haqanisu. Ummata Oromoo fi maatii kee hunda fi jajjabina hakenuuf.

Nagaan yaa Jaala kiyya, yeroo boqoonaa gaarii sifi hata'u.

Naagati Dammuu koo.
Qabsaa'aan ni du'a
Qabsoon itti fufa.

Qabsaa'ota hangafaa qabsoo ummata Oromoo eegalan keessaa tokko kan ta'e Obboo Damissee Kabbadaa Sardaa, kan umurii kee guutuu qabsoo ummata Oromoof of kennu keetiif galata guddaa qabda.

Seenaan bara baraan si yaadata.
Nagaa boqodhu😭😭
Obbo Demissie, was our hero. Heroes do not die !!

Your dedication to Oromo struggle for justice, and independence hopefully will continue until Oromia is free.

The seeds you have planted in the heart of Oromo will not die!!

Rest In Peace Our Hero.
I knew J. Demessie Kebede Sarda from the early 1980s, the time most members of OLF leadership and activists were mass arrested by the military government. He was one of the personalities Amnesty International actively campaigned for their freedom.

I met him in person when he came to London for a two-week visit, when he met Amnesty International officials who campaigned for his freedom for over 10 years. Since that time we have remained close friends.

J. Demessie had a huge struggle with objective of FREE OROMIA. To achieve that, he paid all necessary sacrifices required except his life; over 10 years of imprisonment, and torture by the military regime. However, with regime change, he was freed from prison in the early 1990s. Soon he resumed his campaign as a member of OLF. His dream had been always a FREE OROMIA. To my understanding, he achieved Oromia's realization with a lion's share of his contribution. Now his struggle would be to transform that into safe hands for the YOUNG UPCOMING Oromo generation.

I feel deep sorrow about the passing away of J. Demissie Kebede Sarda. REST IN PEACE.

J. Demessie'n qooda qabsoo isa irraa eegamu caalaatti gumeessee jira. Waan tokko natti hafe jedhu hinjiru. Karaa dheeraa tarkaanfatee baallii qabsoo dhalataa haaraaf (new generation) dabarsee jira.

Harrha, lubbuun isaa harkka Waaqayyoo jirtti. Boqonnaa nagayaa kan barabaraan hawwaaf. Yaadannoon kee barabaraan nawqaliin jiraata.

Demissie Tullu
#Obbo_Damisee_Kabbadaa_Sardaa
#A_Big_Loss_to_a_Nation
One of the reason why my sadness goes high whenever we lose iconic freedom fighters like Obbo Damisee Kabbadaa Sardaa is that they go before witnessing and tasting the fruits of their sacrifices.

To my knowledge, Obbo Damissee is one of the Oromo freedom fighters who gave up everything about themselves for the sake of the independence of their people and nation. I consider myself as one of the very lucky Oromos who had a close acquaintance with Obbo Damissee. And, that was in relation to what he described, in an interview he gave to a medium while he was around, as an inheritance that he got from his uncle Obbo Ejjataa Fayisaa - helping refugees resettle. Obbo Damisee was referring most of the newly arriving refugees to me; and asking me to help him with preparing with what is known as narrative, a starting point for a refugee to present their case to court via a lawyers to obtain a PR status.

In this world where some individuals charge their fellow immigrants in thousands, those services were free; and the successes in courts were 100%. I don't remember a single case of rejection of refugee claims that went to court with a touch of Obbo Damissee's hands on it. Here was one of where I witnessed Obbo Damissee's utomost intelligence. I have noticed, from our interaction, that he was a person who learnt from all the ups and downs that he went through; and used all those knowledge and wisdom to serve his people for as long as he was active. Thanks to the likes of Obbo Damissee Kabbadaa Sardaa, the struggle for the independence of Oromia has reached a POINT-OF-NO-RETURN, where it is standing today.

They paved the way for it; they ignited its torch.

Note: Inappropriate text has been redacted.
Waaqni lubbuu kee haqqaaneessu. Waan dandeessuu cufaa mirga uummaateef kabachiisuuf gummaacha olanaa kaffalteeta.

Bara 32 duraa si argulee hanga harati dhabanii kee fi dheerrensi kee ija koo dura jira. Nama akka kee kana dhabuun bayyee nama gubaa. Jallaan qabsoo kee warreegaman waliin nagaan boqqaadha.

Realy the oromo nation miss you. RIP, the true freedom fighter.
While death is inevitable, I am saddened at hearing the passing of this noble man and a life time fighter for the freedom of the Oromo. His immense contributions to the Oromo politics, consistence, humbleness, and love for his people will always be remembered.

Obbo Damissee, you are a big loss to all our people. Although, you are gone before seeing the fruits of your struggle, you have set the struggle in a continuous motion and soon to be implemented.

Love you for ever.

Rest in Peace my dear!.

I pray for strength to the family and the Oromo people at this difficult time of loss.
You completed a hero's journey!

RIP, Obbo Damissee.
Obbo Demisse, I remember you as the most selfless, kind and humble person I ever met in my life. You were so dedicated to the Oromo struggle, significantly impacted many lives including myself. RIP.
Jaal Demissie Sarda, managed to know you very late. You told me a lot about my Dad. Because you were one of the few heroes who really wanted to uplift the nation in need and you lived down to earth.

With that very short time I was honored to meet you gave me strength and advised me to be firm just like my Dad. I promise to hold the name you gave me soon on my passport.

Abbaa Let Your Soul Rest in Eternal Peace!💔💔😭
Jaal Demissie K. Sarda was a well known and dedicated human rights activist all his life. My family and I were very close to him, as he has been a kind and loving person to all human beings. J. Demissie was a humble, shy, loyal, kind, dissent, ans a man of integrity in the faces of all individuals who have known him.

I had met him here in Toronto in September of 2003, as one of my relatives introduced him to me while I was moving from Quebec City to Toronto. He had welcomed my friend and I to his home. And we both stayed a week or more with him, until we got apartments to rent.

After he told me about his relatives, I noticed that two of my Haramaya University friends were his nephews. The nephews were 3rd and 2nd years students, in the year I was enrolled at the University. These all stories paved the ways to be a closer family until the unfortunate day of his separation from those who lived with him and loved him as big brother and father of the Oromo people.

Jaal Demissie we're going to miss you, but you're always in our hearts; your legacy, Oromummaa, Sabboonummaa, all Oromoo culture and traditions will remain with us and the generations to come. May Waqaayyo keep you comfort and your soul in peace!

Dereje Goro and Family🙏🏾🙏🏾
Obbo Damissee Kabbadaa Sardaa namoota jajjaboo bara dukkanaa keessa roorroo saba isaaniif abokaatoo ta'uun mirga ummata cunqurfamaa cufaaf umrii isaanii guutuu woldhaanssoo godhankeessa worra tarree tokkofaa irra ture!

Bara 1992 miseensa paarlamaa mootummaa cee'umsa Itoophiyaa woyta turanitti Finfinnee fi naannawa isaatti bobba'uun ummata Oromoo barsiisaa hennaa turan hiree qaamaan isaan arguu argadhe!

Nama jabaa, mishaa mirga ummata isaatiif falma'aa jiraatte!

Uumaan isaaf haa araaramu, ekeraan isaa qabbanaan boqatee daadhiin jala haa yaatu🥰
Nami lubbuu dhabu hun dinuu nu naasisaa, nu rifachiisa. Nami le'ii guma kolbaa ifiitiif wodhaantoo qabataa ture ammoo caala'atti nama gaddisiisa.

Jaal Demissie ilaan wol beekuu dhannulle, aka nama Oromoo gumaaf wodhaantoo siyaasa'aa qabataa tureetti anille nama isaa galata galchu'uu male keessaa tokko. Dadhabbiin isaa, miidhami isaa aka lafatti hin banne wodhaantoon teenna yoomille caalaa finiinuu qaddi.

Jaallee Demissie, guddoo galatoom. Addee hoorfattetti, maqa'aa fi hujii teet haga bara baraatti hin qabanne.
Obbo Demissie Sarda is a man who lived for the cause of our people. Nothing makes him happier than talking about Oromo people, Oromo history, Oromo struggle, the sacrifice of our heroes, etc.

Every opportunity he finds, he tries to educate us about our nation and the importance of its freedom. He dedicated his entire existence to the cause of the Oromo nation and remained true to that cause to the end. He is one of the giants that we call the fathers of our nation. He will be greatly missed by a lot of us individually, our community collectively, and the Oromo liberation struggle at large.

May he rest in eternal peace !!

Obbo Damissee keenyna jeennatnii kee huummata keenya waliin haata'u. Lubbuun kee mana Waaqayyoo tti qananii haa argatu.

Nagaatti !!
I am deeply saddened by the passing of obbo Demissie.

I met him only once when he came to visit his friend in Oslo this last summer. His unique way of storytelling about the Oromo struggle and the sufferings he had been through moved us in to tears all the night we had together. I appreciate his dedication and loyalty to the cause of Oromo struggle until the end of his life.

May God rest his soul in peace!
Oromo Canadian Community Association of GTA
Waldaya Hawaasa Oromoo Kaanaadaa -TGN (OCN 866340)
94 Kenhar Dr. Suite # 3, Toronto, Ontario, M9L1N4, Tel: (416) 767 8784, Fax: (416) 767 8784
www.oromocanadian.org

OCCA Statement on the Passing of Mr. Demissie Kebede Sarda

March 4, 2023

It is with great sadness that the Board of OCCA writes to inform members and the public at large that Mr. Demissie Kebede Sarda, esteemed member, fatherly figure, and advisor of our community, died last night, March 3, at St. Michael's Hospital in Toronto. He had been hospitalized following an injury he sustained upon falling at his own residence on Tuesday, February 28.

Mr. Serda, 77, was a member of the Oromo Community of the Greater Toronto Area for more than 30 years. He had touched in many ways the life of many of our members while living the entire three decades in Toronto. He was humble, kind, caring, overly generous, and great champion of the cause of the Oromo nation.

Prior to living in exile here in Toronto, Mr. Serda had immensely contributed toward the liberation struggle of his people. He dedicated his life for the struggle to see fundamental changes in individual and collective rights of the Oromo people. Testaments to that are that he had considerable involvement in the iconic Match-Tulama Association and the birth of the Oromo Liberation Front. In the course of the struggle that Mr. Demissie Serda passionately involved in, he paid enormous sacrifices that remain in the collective memory the Oromo people.

As humanist as he was, the life in exile never deterred him from advocating for human rights and justice for the Oromo and for fellow human beings at large. He loudly and eloquently voiced at all times at every public forum the egregious violation of the inalienable rights of the Oromo nation and others in Ethiopia. Even in private conversations, nothing drew his attention to a discussion much more than the political, economic, and social predicaments of his people. He persuasively and passionately argued fellow Oromos to stay on course in the liberation struggle that leads to the freedom and liberty of the Oromo nation. At all time, he loved echoing a motto that goes: "Freedom for everyone and every nation". He pleaded with everyone he interfaced with to work towards creating a just society.

His contribution in guiding and assisting newly arriving refugees in Toronto was unprecedented; so much so that his passing would undoubtedly create a huge void in this area of his service for our community.

As a member of the OCCA, Mr. Demissie Serda, affectionately addressed as Obboo, has a unique place in the heart and mind of members of the Oromo community in the Greater Toronto Area (GTA). We know his sudden passing is quite shocking for all: his relatives, close friends, acquaintances, and the entire members of the GTA Oromo community.

Also, as iconic figure as he was, the death of Obbo Demissie is deeply affecting many in Oromia and across the globe who know his life and legacy. It must be heart-wrenching for his long-time comrades both in Oromia and the Diaspora.

As a father of the modern Oromo liberation struggle, Obbo Demissie's ground-breaking work of raising Oromo consciousness will be remembered in perpetuity. His contributions in laying building-blocks of Orommummaa is huge. In this regard, he has left a legacy for generations to come: the legacy of (1) being and respecting one-self (2) fighting for justice, equality, and freedom of individuals, and (3) struggling for collective rights of the Oromo people as a nation.
While we all grieve the death of Obbo Demissie, his ever-living legacy would be a source of solace for us.
At this difficult time of grief, the OCCA Board, on behalf of the Oromo Community in the Greater Toronto Area, offers its heartfelt condolences to his sisters, relatives, comrades, friends throughout the world.

May his soul rest in peace!

Board of Directors OCCA-GTA

Note: We will keep you posted on his funeral service and other programs soon. Please stay tuned!
The death of Obbo Demissie is a great loss for his family, friends, the oromo national liberation struggle and our nation as a whole. He is among Oromo giants who totally dedicated their whole life to promoting the Oromo cause.

Obbo Demissie remained loyal to the cause he believed in till the end of his life. The struggle Obbo Demissie tirelessly struggled for will inevitably succeed, because it already produced a generation of Oromo that will never bow down for any sort of tyranny.

Our nation immensly misses Obbo Demissie.

Let him rest in peace!
History remembers Obbo Demisse as one of the greatest Oromo leaders who dedicated his life for the cause of Oromo people to bring an end to the misery Oromo people suffered under successive brutal rule of Abyssinians since the formation of the current Ethiopian state.
Obbo Demisse thought us what truly Oromumma is.

He dedicated his time to help out Oromo refugee claimants in North America in general and in Canada in particular. He always answered his phone to advise, help and educate . What a gracious human being indeed!

Obbo Demisse -- You will remain in our memories for our life time! May the cause you dedicated life for bear fruit fully one day soon.

May you rest in eternal peace!
Deeply saddened by passing of Obbo Demisse Sarda. He was the frist person to lend a helping hand when I was a newcomer. Not only did he help me settle and countless others, he was a father figure, an advisor and wise man for the entire community.

We lost a pillar of our community and a dedicated, selfless servant of this who need it the most, a father of Oromo refugees, he helped everyone regardless of their race, religion or political opinion.

Rest in peace Obbo Sarda. We will miss you dearly!!
Ana haanyaatu, Jaala keenna, kutataa ilma Sabaa, goota dhugaaf dhaabbatee, dhugaadhaaf jiraatee, umurii ufiitii fi lubbuu ufii Sabaaf dabarsee kenne.

Jaala kiyya
Jaala qabsoo
Jaallee Damisee Sardaa
Ani woyi lamuu si-argaa
Xumurtee adeemsa kee
Isa kan qabsoo dhugaa
Amma firraa boqadhuu
Damisee dhiigoo Sardaa
Sabni Seenaan si'argaa.

Dhaamsa kee hindhageennee
Wonta nutti dhaamattee
Akkam garaa jabaattee
Miila kee sassaabbattee
Harka kee dachaafattee
Afaan kee qadaadattee
Ija kee dunuunfattee
Akka nama-nam jibbee
Us jettee nurraa deemtee
Qabsoo oo'aan finiintee
Isii san Qeerroof dhiiftee?
Garaa jabaattee deemtee?

Qooda kankee bahattee
Fiigicha kee xumurtee
Yaa goota ilma Sardaa
Sabni seenaan siargaa
Egaa maalan si'iif dhaamaa
Atuu jajjabaadhu kaaaaa.

Qaamni kankee qaamayaa
Dhaabbanni kankee gaaltamaa
Foon kankae sabaaf fixxee
Damisee ilma Sardaa
Dadhabdee tumaan kuttee?

Biyyeen bakka boqattuu
Takkallee sinquuqinii
Ekeraan abaabuu kee
Abaabuu abbaa-dhugaa
Akaakuun haadha-haqaa
Hunduu sihaa simatanii.

Daadhiin sijala yaatee
Qumbiin hundi urgooftee
Gola kee sirreessanii
Godoo kee bareechanii
Ruhiyyaan jaallan qabsoo
Hunduu sihaa simatanii.

Jarati nuu geessi kaa
Waan biyyoon itti jirtuu
Haqni isaan darbaniif
Kan lubbuu woreeganiif
Daraaruu jalqabeeraa
Nagayatti abbeeraaaaa!
It is sad to hear the passing of Obbo Damissie who was one of the Oromoo giant. May his soul R.I.P.

I wish all the strength for his family, friends and compatriots. All his deeds will be remembered for ever.
On top of his contribution to Oromo struggle, Obbo Demisse was helpful to many Oromia/Ethiopia refugees.

May he rest in peace
MAY HIS SOUL REST IN PEACE.
It is a really a sad day to all Oromos across the globe and Oromo community around greater Toronto area in particular. Obbo. Demise K.Sarda was a a towering figure among our community.

A man of conviction, an emblem of resistance and a reference of grace with an enviable plateau of high caliber. Goodbye and so long our beloved Damissie, thank you for your life long service of Oromo freedom struggles with unflinching stand despite a frustrating ups and downs along the way.

Thank you again and RIP.
I have been living with Obbo Damissee K Serda as a roommate, a neighbor, a friend, a comrade in Toronto for about 30 years until the day left us for good.

I genuinly lack any words to express his integrity, kindness, passion, love of people, politeness, devotion, heroism, intelligence, persistence, sacrifice, willingness to help people, aspiration, ... Obbo was a rare specy. It is almost impossible to accoplish what he has, given the various Ethiopian regimes' egregious brutalities against his physique, mental and moral being and the eventual chronic health challenges he had to face everyday of his life on this planet.

Obbo was the only human being I know that had earned equal measures of respect from 3 generations, his predecessors, his own generation (in which I am included), and the generation of our children. Now that he is gone, all these generations are left with huge voids.

A giant pillar of the Oromo nation has fallen.

Utubaa mana keenyaatitu jige!
Obbo koo nagatti egaa. Nagaan boqodhu.
Obboo Damissee stands tall not only in his physical appearance but contributions he made to Oromo struggle for freedom and equality. I have known not only in community engagement he deals with, but shared Waaqeffannaa group monthly meetings in Toronto till COVID set in.

I am proud of learning many lessons including characters of True Oromo from him. You trusted us as your children and sacrificed yourself for us.

God help us to follow your genuine path of Oromummaa.
RIP.
R.I.P Obbo Demissie💔💔💔😭😭😭😭!

All the great memories we had with you in city of Toronto will always live with us.
Oromia lost a great son. Oromos in Canada lost a great community servant, legal advisor, a storey teller, a giant freedom fighter, an exemplary father figure, who for the past 30 years had been serving, helping , resettling Oromos coming to Canada from Horn of Africa, Middle East, and Europe.

Obbo Dammise Kebede Sarda was a founder of OLF. He was also a member of parliament during a short period OLF was in the transitional government. Obbo Demissie was a true community servant, who lived his entire life for other people! A selfless human being!

His kindness, humility, great sense of community service have touched the lives thousands.

Ekeraan keechan boqonnaa argattinnaa!
I am in a complete state of shock after having learned the passing away of our iconic freedom fighter, Obbo Demissie K Sarda.

I have known him in person for more than 12 years. I can imagine how it feels to go to Irreecha Toronto this year without his presence. He was always there and smiling and greeting us.

He spent his entire adult life fighting for our people's freedom. He spent years in Ethiopian prisons just for standing up against tyranny and oppression. Here in Canada, too, he helped so many immigrants by connecting them to immigration lawyers and offering them guidance.

He was present at funerals, weddings, different community meetings. This was the man who sacrificed entire life for public service. What an extraordinary citizen with such altruistic behaviour. Unlike many political leaders he was down to earth. He treated himself just like any ordinary citizen.

We will greatly miss you. Rest in peace.
With sympathy
I'm saddened by the sudden death of our community symbol. Beyond his wide contribution and struggles for justices and fairness in Ethiopia,

Obbo Demissie served our community for free for many years especially helping new arrivals (including myself) to resettling in Toronto. He was greatly loved, respected and admired.

Rest In Eternal Peace.
We all love you Obbo Demissie.
I am so devastated by the sudden passing away of an iconic Oromo life time freedom fighter Obbo Demissie Kebede Sarda.

Obbo Sarda one of the Oromo Libration Front (OLF) founders, who was also an Ethiopian Parliament member representing OLF during the transitional government in 1991. After leaving the transitional government, he was based in Canada, Toronto city, over the last 30 years. Obbo Demissie Kebede Sarda was a dedicated son of the Oromo nation, a role model, a brother and friend -- and will be missed dearly amongst the entire Oromo society.

Obbo Demissie lived until his last breath serving the Oromo community overseas and contributing to the Oromo cause in different capacities.

With your determination for a noble cause you were jailed for over a decade in the military Derge chamber of torture at the Minilik palace and the notorious Meekelawi. You were exceptionally clean, mentally and physically. You were so selfless, a mentor, who committed everything to your people.

I don't have words to describe you at this emotionally tempting moment!

Rest in peace bro!
Du'a Jaal Damissee Kabbadaa Sardaa'n gadda natti dhagahame akkan itti ibsu hin qabu.

Sardaa bara 1980 mana hidhaa masaraa Habashaa keessatti wal barre. Sardaa'n fira bara rakkootti. Mana hidhaa keessa waggaa kudhanii ol waliin jiraane. Gorsa isaa fi jabina isaa galaa godhanee bara rakkoo sana keessa huluqnne.

Obsi isaa fi kutannoon isaa dawaa nu ta'e. Akkuma alatti hojjetee bulaa biyya sanaa (Confederation of Ethiopian Labor Union) hoggane, Maikalawittis itti gaafatamaa hidhamtoota ABO ture.

Akkuma mana hidhaatii baheen bara 1991 Mana Mariiti bakka bu'oota ABO keessa nama tokko ture. Bara kanaa Oromoo kaayyoo ABO barsiise. Finfinnee fi gidduu galeessa Oromiyaa keessatti walgahii ummataa kan Sardaa'n irratti hin argamin hin jiru.

Sardaa'n Oromoo damaqsuu fi ijaaruu irratti hojii boonsaa hojjete. Ummata miliyoonan lakkaawanan kaayyoo bilisummaa fudhachiise. Dhaloota Qeerroo fi Qarree namoota uuman keessaa tokko. Sardaa'n nama umurii isaa guutuu Oromoo fi Oromiyaa'f kenne.

Jall koo, fira koo :

Bitti abbaa keetii Oromiyaan Qarree fi Qeeroo dhaan mirkana taatti. Seenan yeroo hunda si yaaadata. Hojiin kee bonsan yeroo hunda jiraata.

Nagaan nu boqadhu.
Ekeraa kee dammaa fi aanan jala haa yaa'u.
Sardaa keenya si jaalana.
Yoomu si hin irraafanu.
He was a kind-hearted man and although I did not know him well am deeply saddened by his passing. I send blessings and peace.

Deepest condolences to family and friends.
We lost one of the Oromo icon, a political heavy weight of our time, whose entire dedication was to see a liberated Oromo nation from the century old Abyssinian colonial yoke. He was a man of great leadership and high emotional intelligence whose time on this earth was dedicated in service of his nation.

In honouring his loss we should all pledge to live up to his ideals and takes in the vision of Oromo nationalism to see through and create an independent Oromia where we will have statues and public venues in his name.

RIP our hero!
I was deeply saddened to hear Obbo Demisse passed away. I met him in person only once, but that was a brief encounter, I think at Ghion Hotel in Addis back in 2018.

I noticed warm and affectionate personality in him, confirmation of what I have heard about him from close friends over the years. What stands out for me is a story a friend, who lives in Toronto, told me about him a few months back. Like many other Oromos, this friend was an admirer of Obbo Demisse. He told me that someone published a book on Oromo affairs. Obbo Demisse kindly volunteered to distribute a few copies. Unfortunately not many people were interested in buying and reading that useful book. Ashamed of the situation and feeling sorry for the author, Obbo Demisse paid his own money and bought those copies, perhaps to distribute freely to those who may "kindly" take for free and consider reading it!

That was a testament of the kind of durable man he was, solid personality rooted in Oromo tradition. That means not only preaching but practising and living Oromummaa.

Sadly, individuals with that kind of virtue are becoming increasingly rare in our community.

RIP
We wish Waaqqyoo help this hero of struggle for the rights of Oromo people -- Rest In Peace.

Together with our Oromo heroes and heroines that departed before him, may his noble deeds remain eternal in our history with full glory.

Deepest condolences to his family and friends.
I am deeply saddened by the death of our dear comrade Obbo Demissie Sarda.

He was always so kind and considerate gentleman who was greatly respected and admired. We will miss him greatly.

May his soul rest in internal peace. My sincere condolence to his family, friends and comrades.
Gadda nutti dhagahammu jechotta katabbittin ibssuu hin dandenyu.

Obbo Damissee Kabaddaa Sarddaa nu hundaattu, Oromiyaa hundattu, dhabe.

Hundaafuu jabina hawwina.

Nagaan Boqannuu obboleessaa keenya, abbaa keenya!!

Maatii G Yaahii
Damee, I have no words to express my deepest sorrow for our loss!!!
Rest In Peace my Brother, my Comrade.