Ethiopia's security forces accused of torture, evictions and killings – report
https://www.theguardian.com/global-development/2020/may/29/ethiopias-security-forces-accused-of-torture-evictions-and-killings-report
Prime minister Abiy Ahmed has been lauded for his democratic reforms. But Amnesty International are now urging him to investigate allegations of serious human rights abuses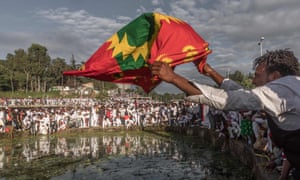 Ethiopia's Nobel peace prize-winning prime minister Abiy Ahmed has been urged to investigate allegations that state security forces have committed a raft of serious human rights abuses including torture and unlawful killings since he came to power in 2018.
According to a report by Amnesty International, published on Friday, Ethiopia's military and police in its two most populous regions arbitrarily detained more than 10,000 people, summarily evicted whole families from their homes – some of which were burnt and destroyed – and in some cases were complicit in inter-communal violence targeting minorities.
Federal authorities have not responded to the report, which focuses on the period between January and December 2019 in the regions of Amhara and Oromia.
Facebook Comments (enable 'Browser Tracking' for this)